CISV Atlanta Chapter Board of Directors
Aaron Lichkay
President – 2017 term ending 2020 (2nd term)
Bio pending.
Shona Harbert & Vivi Blanchard
Co-Local Junior Representatives / Junior Branch – 2017 term ending 2018
Vivi and Shona are both expecting to graduate high school in 2019. Vivi, a student of Decatur High School is interested in the field of nursing. Shona is a student at Druid Hills High School with a passion for math and physics. They first met in CISV in 2012.
Since 2012 Vivi and Shona have been involved in CISV on a local, national, and international level. After completing Village at age 11 they were participants in Interchange, Step-up, and more. They were elected onto the Junior Branch Board as treasurer and secretary in 2016 and a year later were elected Co-Local Junior Representatives. Since joining the Board, Vivi and Shona have staffed SRMC, attended National Junior Board Meeting, and completed multiple chapter development seminars. The girls stay actively involved in the Atlanta chapter throughout the year by planning and facilitating local events around Atlanta.
Tait Anberg
Vice President of Programs – 2016 term ending 2019 (1st term)
Tait is an elementary public school teacher who lives with his wife and daughter in the Atlanta area. He is a graduate of the University of San Francisco where he earned his bachelor and master of arts degrees. Tait received his teaching certification from Mercer University in Atlanta.
Since founding the Atlanta chapter in 2004, Tait has served on the Board in many of its roles. He also serves on the CISV USA Board of Directors.
Actively involved in CISV since 1985 when his family joined the San Francisco chapter, Tait attended Interchange and Seminar programs as a youth participant, led two Village delegations, staffed a Village and Youth Meeting, directed two Villages, and planned a Village, Summer Camp, and Seminar Camp. He worked for the 1996 Centennial Olympics, the Atlanta Union Mission, and has coached Glenn Memorial's girl's basketball, Girl's on the Run, and high school and youth wrestling.
Denise Outlaw
Treasurer – 2017 term ending 2019 (1st term)
Denise and her husband have owned and operated Outlaw Consulting, a tax credit consulting firm in Peachtree City, GA for the past 20 years.  She graduated from Emory University with a BBA in Accounting and soon after acquired her CPA license.  She worked for several public accounting firms performing audits and tax return prep before joining her husband at Outlaw Consulting, Inc.
Elected to the board in 2017, Denise serves as Treasurer and member of the Finance and Governance committees.  Denise became an active volunteer in the CISV Atlanta Area Chapter shortly after her children began participating in 2007. She watched both of her children mature as they participated in a variety of offered programs culminating in her son's positions on the local and national JB boards. She has hosted family stays for Village, Youth Meeting, and Interchange.  The ability of CISV to instill confidence and cultural awareness in its participants paired with its ability to develop independent thinkers and leaders of the future is what has kept her involved for the past 10 years.
In her free time, Denise volunteers at a local domestic violence shelter answering crisis calls and coordinating volunteer food pick-ups.  She enjoys walking, pilates, and good books.  Now that both kids are in college, Denise and her husband travel more and enjoy a flexible lifestyle.
David Wright
Fundraising – 2017 term ending 2020 (2nd term)
Bio pending.
Anthony Peace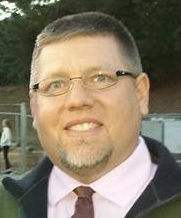 Risk Manager – 2017 term ending 2020 (2nd term)
Bio pending.
Missy Worden
Selection – 2017 term ending 2020 (1st term)
Missy is a licensed music therapist and has been working with children with special needs in Fulton County schools for 20 years.  She graduated from Millsaps College with a BA in French and vocal performance, and then from Florida State University with a MM in music therapy.  She married David Worden and after living in New Orleans for several years, they settled down in Marietta, GA and have 2 sons.
It was David that got their family involved in CISV Atlanta, as he and his siblings were all in CISV as children growing up in Knoxville.   Knowing what a significant part of his life the experience was for him, they came across our local chapter in 2014 and have been involved since.  Their sons have been part of Village and Interchange, going to Brazil, Finland, and Austria, as well as many mini-camps in between.
Missy especially enjoys her role as Selection Chair because she likes meeting new people and connecting them through this unique program.  One of her goals this year has been to broaden the search for new CISV families throughout the greater Atlanta area and encouraging new family involvement.  Missy felt drawn to volunteering for CISV after seeing the impact its involvement has had on her sons.  She enjoys everything related to being a teenage boy mom, as well as playing tennis and the piano.
Jalencia Burchett
Local Interchange Chair – 2016 term ending 2018 (1st term)
Jalencia is a math educator and she currently serves in the role of Mathematics Instructional Specialist for Gwinnett County Public Schools.  She has worked for the school system for 7 years.  Jalencia is originally from Memphis, TN.  She attended Vanderbilt University in Nashville, TN where she received her Master's Degree in Education and Bachelor's Degree in Mathematics and Secondary Education.
Jalencia joined CISV in 2015 as an Interchange leader.  She led seven delegates from Atlanta to Helsinki, Finland.  Immersing yourself in another culture for two weeks is a life changing experience.  You become more open-minded and develop a stronger understanding of other people.  Since her return from Finland, Jalencia has remained active in CISV serving as Local Interchange Chair.  She coordinated an Interchange group to Graz, Austria and is currently working with a group who will be travelling to Telemark, Norway.
Phillip Mitchem
Director-at-Large – 2017 term ending 2018
Phillip works as a SharePoint developer for the Board of Regents of the University System of Georgia and has a master's in computer science from Georgia State University. He has two children, a daughter active in CISV and a young son soon to be active in CISV.
He is a firm believer that CISV is a worthwhile organization that brings about understanding and builds friendships worldwide.  It is his hope to see the world at peace in his lifetime.
In his free time, Phillip enjoys his son's scouts activities, camping, taking quantum physics classes, helping the DIY Biolab at the Decatur Makers, reading at his son's elementary school, and assisting his daughter with filming projects.
Markus Wiegel
Director-at-Large – 2016 term ending 2019 (1st term)
Markus is a clinical psychologist who has worked for the Georgia Sex Offender Registration Review Board since 2014.  He obtained his Ph.D. from Boston University, and has been doing research and treatment in the field of sex offenders since 2001.
Markus became involved in CISV in 2006 when his daughter, Caitlin, attended Village in Denmark.  He enjoyed being a CISV parent and watching Caitlin grow and mature as she continued to attend many programs over the years.  He took a delegation to Cincinnati, USA in the summer of 2013, as a Step-up leader, which he noted was the highlight of his CISV experiences.  Markus has also served as the Atlanta chapter Risk Manager.
Markus is married to Cindy, who served as the Atlanta chapter president from 2007 to 2010.  Now a grandfather, Markus looks forward to watching another generation growing up in the CISV community.
Greg Pins
Secretary – 2017 term ending 2018 (1st term)
Greg has worked as Managing Director since 2006 and Strategy Consultant since 2012 for Southeast Managing Consultants.  He is also Principal Consultant for Candid Parters LLC since 2013.  He graduated from Florida State University with a BS in Economics, International Business, and then from The University of Texas at Austin with an MBA in Strategy.
Both of Greg's sons have been involved in CISV with his oldest travelling to Canada for a Village in 2009, to Indonesia for a Summer Camp in 2013, and USA for a Youth Meeting in Pittsburgh.  His youngest participated in a 2013 Village in France.